Faceted Briolettes & Smooth Drops
Hi, my name is Steve Green and my company Rough and Ready Gems specializes in these beautiful, stylish, historic cuts brought back to life using over 50 different genuine, natural gem materials. I strive to cut pairs but singles and sets are also available. Their movement, fluid shape, color and play of light all make for a dazzling effect, adding a unique and historic look to jewelry.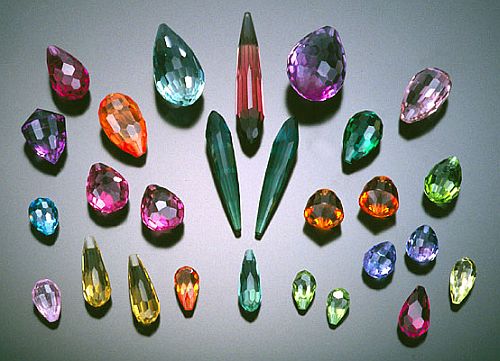 NATURAL GEMSTONE BRIOLETTES IN VARIOUS SIZES AND PROPORTIONS
I take pride in the quality of my products. My gems are all of natural origin dug from the earth just the way nature created them. I do not sell "cultured", "hydrothermal", "created" or other fraudulently misrepresented gemstones as the "real thing." I will never misrepresent or mislabel the stones I sell as is so often the case on Ebay, Etsy and other internet sites. I will disclose all treated stones. When you buy from Rough and Ready Gems you get a top quality, genuine item that is unique. You also get technical support to help with all your setting questions.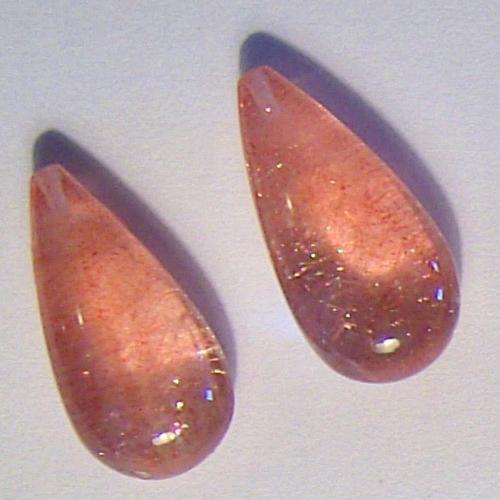 Smooth drops, Strawberry Quartz, Kazakhstan, these are the Real McCoy not the fake Chinese imposters, iridescent red shimmering needles in clear quartz, 14.27ct
My briolettes and drops come in a variety of sizes, shapes and proportions. We have from the long skinny, to the short fat and from tiny to large for those unusual requests. Most of our gem shapes mirror the historic and traditional briolette, but some of our cuts are thoroughly modern and unusual. See our briolette photos to get a better idea.
My line of smooth drops come in a variety of standard and not so standard materials. While faceted briolettes highlight the life and sparkle of transparent gems, smooth drops work well to show off translucent and opaque gems. Gem materials containing patterns and interesting inclusions look great in smooth drops.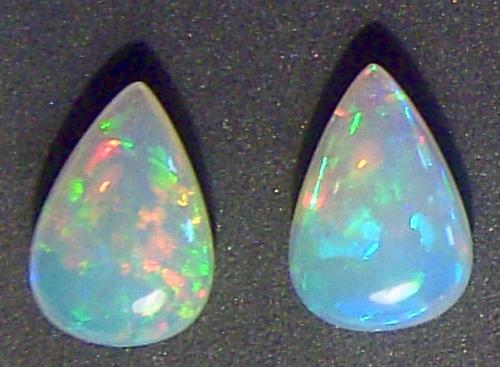 Smooth drops, Ethiopian Opal, Excellent match in fire, shape and all else, great transparency, 5.98ct
I recommend three methods to set briolettes, two use adhesive and one does not. Each of the three setting methods has its advantages and disadvantages. They are all tried and proven, each works well for different applications. See our strength tests for more information about each method's advantages and disadvantages. Proper surface preparation and adhesive type are very important to achieve optimum results when setting briolettes in two of the methods. Some of our briolettes and drops lend themselves to being drilled at either end for a totally different look in jewelry.
Our 3 tried and proven setting techniques are based on actual testing and real world experience. Two of the methods rely on adhesives and when done properly are exceptionally strong and durable. By following our advice you can expect strong, durable, problem free settings.
Pin-Caps: Rough and Ready has custom made gold and silver pin-caps in small sizes for setting briolettes. Using pin-caps, a vertical drilled blind hole and adhesive allows maximum briolette visibility while providing a strong durable setting. This method is simple and secure allowing the entire gem to be seen. It works especially well on smaller drops and briolettes. In most cases this is our preferred and recommended setting method.
Conical Caps: We also have available different angles of conical caps which can serve as a starting point for your own design. Our cap system and suggestions will enable you to fit briolettes and drops accurately and easily, reducing labor time and increasing strength of the briolette-cap junction. Caps have the advantage of maximum adhered surface area with a corresponding increase in setting strength. Capping briolettes also offers a unique look in the finished piece. We supply our caps in ready to cast wax for free (no charge) with the purchase of any of our briolettes. Caps work best for briolettes over 12 mm in length. Briolettes should either be air-abraded or drilled when used with caps.
Adhesive Free: If you do not want to use adhesive to hold your briolettes and drops they can be cross-drilled for a through wire or pin. However, it should be noted that this method puts added stress on the gem and often results in premature breakage during use. Many jewelers have experienced this. Using cross-drilled setting methods has its place but like everything it also has limitations.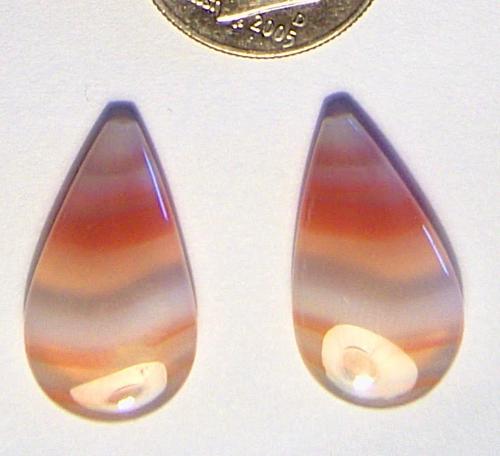 Smooth drops, Mozambique Agate, translucent with coral & white colored banding, 11.20ct,
with a dime for scale.
Ultrasonic Drilling Services
Rough and Ready Gems can accurately and safely drill gemstone briolettes, drops and other hard, brittle materials. After years of drilling with Taiwanese ultrasonic drills which proved to be unreliable and unserviceable we eventually had a Made in the USA custom ultrasonic drill built. This unit is very tune-able from low to high amplitude for different applications and has little "down time" as it can be serviced right here in the USA. The quality of our gemstone drilling work is unsurpassed. Our ultrasonic drilling expertise is available to the gemstone trade as well as other industries. The holes we drill have minimal chipping, come accurately sized, are accurately positioned, have parallel sides, flat bottoms and can be done in variety of diameters (0.35 mm to 6.0 mm). We can drill holes up to 20 mm long and in some case longer. Our ultrasonic drill system can drill any gemstone or brittle man- made material except diamond. See our Ultrasonic Drilling Service page and photos.
Air-Abrasion Services
This method of low stress surface preparation uses an abrasive grit and a high speed air stream to etch the gem surface. It greatly increases setting strength when used in combination with adhesives and is highly recommended when using conical caps. We accurately mask the gem to keep all air-abraded surfaces invisible and under the cap where they belong.
Again, see our setting techniques and strength tests sections for details and advantages of each method.
---
Over the years we have found that many of our clients have wanted matched pairs of briolettes in hard to find small sizes. Our briolettes come as small 5mm and as large as 35mm or more in length. If you need large or small, singles or pairs, sets or size progressions, we can supply you with your briolette requirements. See our briolette descriptions for more details.
I've been in the gem and mineral business since 1979. After years in the mineral specimen, rough gem, and "normal cut" gemstone business, I decided to specialize in just briolettes and drops. Currently we exhibit at the world renown Tucson Gem and Mineral Show GJX booth #700, in February of every year. You may contact us via telephone or email.
We are a wholesale business to the trade, and thus require a sales tax number or other business identification.
Shipping is by Insured or Registered Mail via the US Postal Service, UPS or Federal Express. Payment can be made by check, MasterCard / VISA, or with pre-approved terms. Memos and credit are possible with references.
We guarantee that if for any reason you are not satisfied with the merchandise it can be returned in it's original form within 10 days for a full refund, less shipping costs. We want you to be 100% satisfied with our unique product.
Thank you very much for your interest, and be sure to explore our informational site.
Sincerely,
Steve Green, President / Owner
---